TESTIMONIALS
"He's good. He's very good. When my husband wore his suit to a meeting in Manhattan, he looked slender. I think Umberto's skills removed a few pounds from him!"
-Mrs. Merrill, Wilton, CT
"While I was riding the train to New York, wearing my newly custom-made suit, I encountered a couple of commuters, who were bragging about their tailors in Seville Row in London. I casually opened my jacket so they could see the Umberto label, and told them, "My tailor is in Wilton, CT!"
-Mr. Nielson, Wilton, CT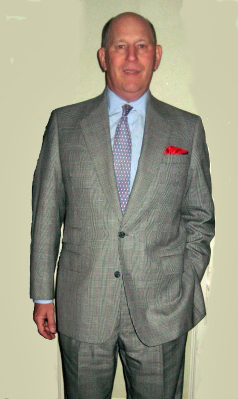 "Thank you for the wonderful job you executed tailoring my modern fitting suit. You are truly an artist. It was a perfect "fit". It excellently traced my body. Extremely comfortable and I always receive compliments when I wear it. You are a true sartorial tailor."
– Steven Toia
"Umberto has been creating unique suits and jackets for me for eight years now. He has crafted many of my thoughts and drawings of custom clothing into reality with impeccable style. As an artist, I want my clothes to be unique and stunningly different and Umberto's suits are one of a kind. He has brought many of the comforts of all the things I love from different manufacturers into his work which make his clothes fit impeccably."
"I not only have a product that reflects me but they are the most comfortable clothes I have ever worn. Many of the jackets he has tailored for me have no lapels and unique shaping that can not be found on the shelf, he has crafted over a dozen styles I am proud to wear."
"Umberto is a true craftsmen and a talented artisan who has earned my respect, I would trust no one else to dress me up. I love his enthusiasm when I have a new idea that looks like it can't be done, he always says no problem, I can do this."
– Charlie Zunda
"Whenever I find myself traveling in the greater New York area, I always make time to visit Umberto. Umberto isn't just preserving the art of custom-made clothing–he creates art! I've purchased suits, shirts, pants, and a jacket from Umberto. Each piece is hand-crafted from scratch and perfectly tailored. I've received numerous compliments while wearing Umberto's hand-tailored clothes. Every gentleman's closet deserves multiple pieces with the Umberto label."
– Pete Sikora, Petaluma, California
I had heard about "Umberto the Tailor" in the 1980's. I was working in Hartford, Connecticut. A business colleague was wearing extraordinarily fine looking suits, and I complimented him on this. He was a former Wilton resident, who told me that he always returned to Wilton to get his suits made by "Umberto the Tailor".
I said, "Yes – you look great – but you must be crazy to travel that far for your clothes!"
Ironically, in the 1990's I moved to Wilton. In 1996, Umberto made my first suit for me. Very soon, I had to have "Umberto the Tailor" make all my sports coats and shirts, too.
In the 21st century, I moved to Boston. Recently. A business colleague noticed my sport coat and asked where I had gotten such fine tailored clothing? You can guess the rest.
"You must be crazy! You go all the way back to Wilton for your clothes!"
So I guess I must be crazy too? But once Umberto has made custom tailored clothes to fit you, it is simply not possible to go back to anything else. You will find yourself not wearing those other clothes in your closet. It is not a conscious transition, but it just happens. I am not alone in this. I know others with the same experience.
Over time, he will replace everything in your closet. And you will enjoy having him do this. Umberto is a master craftsman. It is always a treat to visit his shop. His custom-tailored clothing makes you feel like you are not wearing clothes at all, but you will look a lot better!